---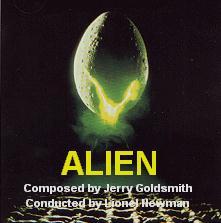 Unfortunately I have not been able to purchase the OST of this incredible recording, and it looks as if I may never get the chance to. Fortunately, the DVD version of the movie comes complete with a score-only soundtrack for those who couldn't live without it like me. Also, there is a CD entitled The Alien Trilogy out which is a compilation released by Varese Sarabande with a 22-minute suite of the score available. Though the performance, by the Royal Scottish National Orchestra, is not as good as the original, it should be enough to please many. Alien is a definitive highlight in the Career of Jerry Goldsmith. An atonal, horror classic, it invokes intrigue as much as it invokes dread in the listener. This is my favorite score in the series and I like it even better than Goldenthal's Alien3. If you are a fan of atonal music, and you *ever* get the chance to own the original album then do so, or you may regret it.

Rating - 10!

---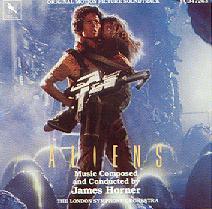 If you read through my page, then you know how much of a Horner fan that I am. Though this isn't really one of his best overall, it is a masterpiece when you consider that is was composed in just ten days! And to make matters worse for the composer, the film required around 90 minutes of music. So much was required that the editors had to place a piece of Goldsmith's original into a small section of the movie. There have now been two official releases of this score: The original, 40-minute CD released by Varese Sarabande in 1986 and the new and highly improved Expanded release just out recently on May 1, 2001. While this score does not contain the same amount of harsh atonality of Goldsmith's, it is very action-packed and entertaining.

Ratings -
Score in film: 5
1986 CD: 7
2001 CD: 9.5
Overall: 8

---
The most controversial of the Alien score, Goldenthal's little corner of the series is even more wrenchingly atonal than Goldsmith's. While I don't like it as well as the premier Alien score, I feel that this is probably the most creative. Unfortunately, the supremely harsh sounds are scoffed at by fans of traditional tonal orchestral writing. The best description possible is that Alien3 is a love or hate it affair, and I love it!

Rating: 10!

---
Alien Ressurection is sadly the most overlooked gem in the series. To be honest, Frizzell's contribution is an incredibly well done homage to all of the previous Alien scores. He inserts a little bit of the random styles of the composers to preceed him, such as Goldsmith's growling, spitting orchestration, Horner's miliatarism, and Goldenthal's infamous horn calls. It seems that this isn't going to be the last score in the series, though...

Rating: 9