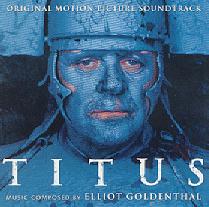 ---
Track List:
---
Victorious Titus 2:58
Procession & Obsequis 3:01
Revenge Wheel 0:52
Tribute & Suffrage 4:17
Arrows of the Gods 1:32
An Offering 2:04
Crossroads 3:24
Vortex 1:33
Swing Rave 1:53
Ill-Fated Plot 2:20
Pickled Heads 5:05
Tamora's Pastorale 1:13
Titus' Vow 3:43
Mad Ole Titus 2:28
Philimelagram 1:46
Pressing Judgement 3:32
Aaron's Plea 2:02
Coronation 1:53
Apian Stomp 1:32
Adagio 2:25
Finale 8:33
Vivere 3:33
Total Time: (61:42)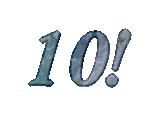 Composed by:
Ellot Goldenthal

Conducted by:
Steve Mercurio,
Jonathan Sheffer

Orchestrated by:
Robert Elhai,
Elliot Goldenthal,
Steve McLaughlin

Performed by:
The London Metropolitan Orchestra,
English Chamber Choir,
The Mask Orchestra,
The Pickled Heads Band

There is *absolutely* no more creative voice in modern film scoring than Elliot Goldenthal. It's orchestral writing like this that makes me wonder what in the world anyone can have against him. He's a genius! The man can skillfully combine so many genres so well that is just makes my mind boggle. And the scary thing is that he writes music of the highest quality for each genre that he dabbles in. If you're looking for an incredibly eclectic, yet extremely listenable score for fans of all types of music, then look no further than Titus.

What makes this score so great is not the simple fact that there are so many styles, it's the fact that the composer fuses them together so well. Some of the different styles are traditional orchestra, swing, techno grunge, hard rock, and Goldenthal's usual atonal writing (my personal favorite). "Pickled Heads" is easily the most eclectic track of all, and is the second most interesting. It starts out with the rather noisy techno grunge and rock but becomes a terrific atonal jazz piece with a really weird use of sax and accordion. The *most* interesting track has to be "Mad Ole Titus" which contains saxophones playing some of the most atonal music ever I've ever heard. The sound just flies everywhere, and the effect is so intriguing that I have to applaud Goldenthal for it. The wonderful thing is that it is also very listenable.

There is also a lot of swing contained in this score. I've read in different places (not necessarily just soundtrack review sites) that people are sick of swing. Personally this statement completely bewilders me. It's not at all like swing has really remained a huge current success for any truly extended amount of time. A film score fan might as well just claim to be sick of orchestral music (sorry for the little rant there). Anyway, I love swing, and I feel that flavor of this score is made all the more sweet by its inclusion. It first appears in "Tribute and Suffrage" and shows up again in other tracks, though each of these tracks presents an entirely new song. Interesting enough, the track "Adagio" is not adagio at all. It is another swing piece that begins normally and gradually becomes more and more atonal throughout its duration, giving the score yet another of many fascinating moments.

The good old Goldenthal orchestral writing continues in his heavy use of atonality, though there is the smooth tonal writing which we all love. The score's concluding track, "Finale" is a wonderfully dramatic eight-minute masterpiece that nearly reaches the magnificent power heard in Goldenthal's own "Adagio" from his Alien3 score.

The cue "Pressing Judgement" is taken from the A Time to Kill score with a motif from "Revenge Wheel" placed in front of it. The track "Titus' Vow" recalls memories of Elliot's wacky, bouncy score for Batman Forever, yet all of the music here is original (though similar atonal devices are used in just about every score by this composer), and anyone who believes that Goldenthal only copies his music should take note of that.

Titus is far more creative than *any* score in recent memory, and is certainly one of the best original soundtracks that has been released in a long time. I know that there are some people out there who don't care for this (something I'll never understand), but I believe that no one should be without it. Certainly my favorite original release of 2000, Goldenthal's effort should go down in history as a classic (though I somehow doubt that it will). I very much look forward to the maestro's upcoming scores, particularly Final Fantasy. If you don't believe how good I say this is, just buy it and listen for yourself. I recommend it wholeheartedly.
---
Titus is Copyright 2000 Sony Classical. This review is written by and is the property of Isaac Engelhorn and does not reflect the opinions of Tripod.