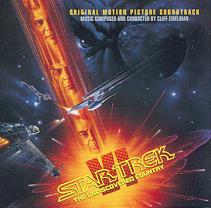 ---
Track List:
---
Overture 2:57
An Incident :53
Clear All Moorings 1:39
Assassination 4:45
Surrender for Peace 2:46
Death of Gorkon 1:10
Rura Penthe 4:22
Revealed 2:38
Escape from Rura Penthe 5:34
Dining On Ashes 1:00
The Battle for Peace 8:03
Sign Off 3:13
Star Trek VI Suite 6:18
Total Time: (45:11)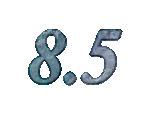 Composed by:
Cliff Eidelman

Conducted by:
Cliff Eidelman

Orchestrated by:
Mark McKenzie
William Kidd

Since the Star Trek series is comprised of many of my favorite movies, I am quite lucky that the music and composers that are assigned the task of scoring are almost always above average, Star Trek VI is no exception. I'll first point out like many others have reguarding this score, that this is by far the darkest in the long-running Trek saga. The movie itself was very gritty compared to previous entries in the series, being more of a "whodunnit" rather than a heroic battle of G Vs. E. Director Nicholas Meyer who had previously directed Star Trek 2 returned to the handle the top creative seat for the final film in the Kirk/Spock/McCoy era. Originally wanting to adapt Holst's Planets Suite to the film, Meyer was looking for a cost-effective way of scoring. His answer was the newcomer composer Cliff Eidelman. As many have mentioned, it was ironically Meyer who had chosen young and unknown composer James Horner to score Khan nine years earlier. With this score, Eidelman gracefully proved that he was no less suited to such a monumental task.

The opus begins quite effectively with foreboding strings building to a gripping main theme that is actually more effective in the film perhaps than those of Horner and Goldsmith, despite the fact that it is not as memorable apart from the imagery that spawned it. Being the prime focus in this story, the Klingons are given much attention in throughout the duration of the album. Unlike Horner in Star Trek 3, Eidelman chose not to use Goldsmith's Klingon theme as a blueprint, but venture out on his own to create a leitmotif for the (up to this point) savage aliens. This motif is comprised of four notes that play twice in rapid succession. The Heroic theme of STVI appears in only four tracks, which adds to the power it has whenever it shows up, giving it a very touching effect.

The CD is a direct digital recording and the sound quality is flawless which unfortunately can't be said for the orchestral performance. Not to say it's bad, but there are a definite couple of flubs made by various sections of the orchestra, and there's a trumpet solo near the end that sounds a little weak, but overall these small problems don't really hurt. If you're a fan of Star Trek music, you'd be hurting yourself by not owning this. If you're not generally a fan of the series, I suggest this album even more due to the fact that it is quite unlike other Trek scores. I recommend it in any case.
---
Star Trek 6 is Copyright 1991 MCA Records. This review is written by and is the property of Isaac Engelhorn and does not reflect the opinions of Tripod.