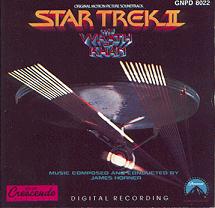 ---
Track List:
---
Main title (3:03)
Surprise Attack (5:06)
Spock (1:10)
Kirk's Explosive Reply (4:02)
Khan's Pets (4:18)
Enterprise Clears Moorings (3:32)
Battle in the Mutara Nebula (8:08)
Genesis Countdown (6:36)
Epilogue and End Title (8:40)
Total Time: (44:56)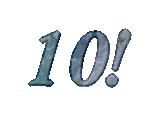 Composed by:
James Horner

Orchestrated by:
Jack Hayes

Conducted by:
James Horner

To start off, I must say that this is my absolute favorite of James Horner's soundtracks, and oddly enough, it was his very first major film effort (he'd previously composed a few small scores for Roger Corman horror flicks). Due to the inflated budget of the previous Trek movie, paramount decided to cut costs tremendously and opted for an unknown composer as opposed to veteran film composer Jerry Goldsmith, who composed for the first movie. Horner was instructed to write a "sea-fareing" score to compare the vastness of space to the ocean. The result was a swashbuckling "space-pirate" soundtrack. The initial success of the film and it's score opened the flood gates for Horner and movie offers came pouring in.

The music is quite captivating, and very exciting. One odd thing you may notice about the main theme itself is that the melody would actually be quite forgettable (at least when compared to Goldsmith's more poplular one) if Horner had not had the genious to make the incredible arrangements that he did. Unlike more recent Horner scores, this soundtrack contains quite a bit of dissonance and noise. There are two other themes, Spock's simplistic logical-sounding theme and Khan's loud theme, which contains a 4-note trumpet motif that was unfortunately rehashed in Horner's later scores for "Willow" and "The Mask of Zorro."

The last four tracks all tie as being my favorite on the disc.

There are a few problems with this CD release of the soundtrack, however. The sound quality is very poor (you can hear mounds of tape hiss from the original recordings) and to top it off, the cd is missing some very important cues. I hope that this soundtrack recieves an expanded addition sometime soon like the recent re-release of Horner's own fantasy-adventure "Krull."

All in all though, this ties with "The Empire Strikes Back" and "Final Fantasy VI" for being my favorite soundtrack of all time, and if you don't have it, you should get it right now, even if you don't like James Horner.
---
Star Trek 2: The Wrath of Khan is Copyright 1982 GNP/Crescendo Records. This review is written by and is the property of Isaac Engelhorn and does not reflect the opinions of Tripod.