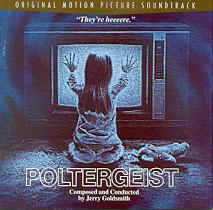 ---
Track List:
---
The Star Spangled Banner 1:30
The Calling/The Neighborhood (Main Title) 4:07
The Tree 2:26
The Clown 5:12
Twisted Abduction 6:56
Contacting the Other Side 5:10
The Light 2:05
Night Visitor/No Complaints 9:07
It Knows What Scares You 7:37
Rebirth 8:23
Night of the Beast 3:51
Escape From Suburbia 7:10
Carol Anne's Theme (End Title) 4:19
Total Time: (68:04)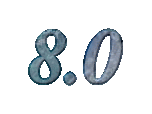 Composed by:
Jerry Goldsmith

Conducted by:
Jerry Goldsmith

Orchestrated by:
Arthur Morton
"They're Heeeere."
If you ever thought that there was no such thing as a fun horror score, then just take a listen to Poltergeist.
To be honest, the movie itself was not complete horror, as it does contain several really cheesey gags. The score itself is almost completely atonal, but it contains one of the most beautiful themes ever conceived: Carol Anne's lullabye. The odd thing about this theme is the fact that no matter how beautiful it is, its use in key areas of the movie is very disturbing, not because it is scary mind you, but because its use is simply *unnatural*. The scariest part of the entire score that I can think of is the very end. It's unnatural like the lullabye, but it takes the concept to a whole new level. I'm not going to give it away by telling you what happens, but believe me, you'll probably freak out the first time you hear it. Apart from the lullabye, the score isn't nessesarily very memorable, but is fun to listen to. I particularly like the "Escape from Suburbia" cue that plays as the Freeling family is attacked by the nasty ghosts for one last time. It may seem weird that the Star Spangled Banner was used to open up the album, but if you've seen the film, you'll know just why it does. In all honesty, it was a nice touch.
Though certainly not the greatest work of Goldsmith's career, this is a great listen, and this expanded release from Rhino give us the score the way it was meant to be heard. The sound quality is great and the booklet is packed with info on the film and Jerry's role in composing for it, including an in-depth, track-by-track analysis.
If you're a fan of horror flicks or Goldsmith, pick this up.
---
Poltergeist is Copyright 1982,1997 Rhino. This review is written by and is the property of Isaac Engelhorn and does not reflect the opinions of Tripod.