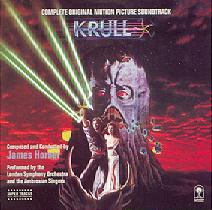 ---
Track List:
---
Disc 1:
Krull Main Title and Colwyn's Arrival 7:35
The Slayers Attack 9:20
Quest for the Glaive 7:24
Ride to the Waterfall 0:54
Lyssa In the Fortress 1:29
The Walk to the Seer's Cave 4:11
The Seer's Vision 2:19
Battle In the Swamp 2:41
Quicksand 3:39
The Changeling 4:05
Colwyn and Lyssa Love Theme 2:35
---
Disc 2:
Leaving The Swamp 2:01
The Widow's Web 6:20
The Widow's Lullabye 5:03
Vella 3:27
Ynyr's Death 1:42
Ride of the Firemares 5:23
Battle of the Parapets 2:53
Inside the Black Fortress 6:16
The Death of the Black Beast and the
Destruction of the Black Fortress 8:32
Epilogue and End Title 4:50
Total Time: ()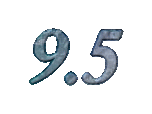 Composition/Conducting:
James Horner

Orchestrations:
James Horner
Grieg McRitchie

Performance:
The London Symphony Orchestra
the Ambrosian Singers

Now this is one exciting fantasy-adventure score. From the corny women's choir at the beginning to the triumphant finale, the listener is treated to nothing but wonderful and mesmerizing music. As hard as it may be to believe, there are actually some people out there who don't like this, and I just can't and don't understand why. While not as broad or sweeping as the Horner's score for Willow that would come five years later, this is still quite grand and nearly as fun as it's brother, in some ways it's even better. This one just seems to capture the element of pure fun better than most other Horner scores.

This Super Tracks release features the entire 90-minute soundtrack from beginning to end. While this is actually something of a minus from the experience as a whole (it would have been nicer to have as single disc and not all of the score is really that great), it is almost necessary considering that the soundtrack has had two prior releases. Even though this is remastered from the originals, the sound quality could be a lot better, but the performance is great and the London Symphony Orchestra is just as good as always, but oddly enough, some parts of this score are so difficult to perform that even the LSO has some trouble not messing up.

This begins oddly with high singing from the Ambrosian Singers but that soon melts away (or gets blown away) by way of a huge, and I mean HUGE orchestral fanfare that lasts for nearly thirty seconds which eventually gives way to the awesome main theme. Some tracks continue in this fashion, but the ones that are truly worth mentioning are the softer tracks, including the concert arrangement of the beautiful love theme, it's just a shame that it's hard to see past the corny movie that it was originally meant to accompany (which bombed horribly BTW). There are other great cues including the two awesome battle tracks, but of course my favorite is "Ride of the Firemares." With a name inspired by Wagner and compositional quality to match, this is one of James Horner's very best. I like it so much that I named my first web page after it.

Even though this is an early Horner score, this does suffer from some unoriginality. There are some ostinatos and chord progressions that are straight out of Star Trek 2. This can be forgiven even by non-horner fans though because the composer had only two or three weeks to write and was even suffering from sickness at the time (or so the story goes).

James Horner's keen musical sense combined with Greig McRitchie's rich orchestrations make this a soundtrack that no fan of movie music should be without. It's not the greatest ever, but what truly is? If you like fun film music then you'd best get this right away. I especially recommend it to all fans of fantasy-adventure.

This soundtrack costs forty dollars and is only available at Super Collector.
---
Krull is copyright 1998 Supertracks. This review is written by and is the property of Isaac Engelhorn and does not reflect the opinions of Tipod.