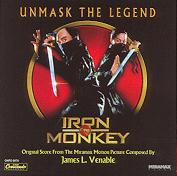 Good score, painfully long track titles. -Isaac Engelhorn (11/28/2001)
Track List:
---
Main Title/Iron Monkey On the Roof 2:09
Dead Bird/Iron Monkey Fight 2:10
Fox's Paranoia/Flying 1:18
Don't Be Greedy/Many Iron Monkeys/Wong's Fight 2:46
Wong Fights Iron Monkey 3:04
Sad Wong 2:08
Cooking Montage 1:41
Wong's Son 1:25
Shaolin Monk Fight/Ugly Virgin Fight 2:48
Iron Monkey Recognized/Miss Orchid's Flashback 2:00
Governor's Intruder 1:17
Iron Monkey's Chrade/Open the Warehouse/Fei-Hong Sees 1:43
Fei-Hong's Fight/Fei-Hong Fights Again 3:01
Street Band/Evil Royal Minister :58
Poetic Justice/Iron Monkey Fights Woman/Buddah's Palm 5:43
Bleeding Iron Monkey 1:20
Plan of Attack :54
Who's That Knocking/Tearful Goodbye 2:12
Miss Orchid Shows Her Stuff/Witch Vs. Kid 4:25
Fei-Hong's Rescue 9:46
New Governor's Band/Farewell 1:24
Total Time: (54:22)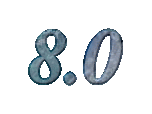 Composed by:
James L. Venable

The first thing that you should ask yourself if you consider buying the soundtrack to Iron Monkey is whether or not you feel like owning the score to this type of film. Personally, I find the music highly entertaining. Not because of its depth, ingenuity, or anything like that, but because of its style and the fact that I don't own any other score similar to it. I'm not really a big fan of martial arts flicks, and I haven't seen this particular film, but it was directed by Yuen Wo Ping, the martial arts director for The Matrix, and I've heard good things about the film. I'm certain that Venable's score works quite well within it. This is, after all, the same composer for Cartoon Network's Samurai Jack, a highly enjoyable show.

It's not really easy to describe the technical merits of the score considering I don't know much about the style, but I know what I like, and I like this a lot. As far as I can tell, the music is mostly electronic with a few various solo performances of ethnic instruments. The solos and/or small ensembles not only add much to the sound, but they also cover up the synth that is so that the authenticity is never put into question.

Since I don't have any other music similar to this, I can't really compare and contrast it to other works (hence the shortness of this review). If you have any music like this, then I wouldn't be sure if I could recommend this to you or not, but if you don't have any other music like this, you'll most likely be impressed with it as I was. A damn good score.

.

.

.
---
Iron Monkey is Copyright 2001 GNP Crescendo. Music produced by James L. Venable. CD produced by James L. Venable and Ford A. Thaxton. Executive producer: Neil Norman. This review is written by and is the property of Isaac Engelhorn and does not reflect the opinions of Tripod.