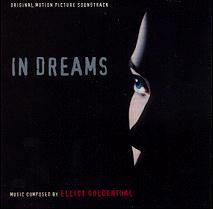 ---
Track List:
---
Agitato Delorosa 5:00
Claire's Nocturne 2:38
The Pull of Red 2:08
Appellatron 3:32
Wraith Loops 3:26
Rubber Room Stomp 2:01
Pulled By Red 1:11
Scytheoplicity 3:25
In Dreams (Roy Orbison) 2:49
Rebecca's Abduction 4:31
Premonition Lento 1:43
While We Sleep 2:36
Don't Sit Under the Apple Tree (The Andrews Sisters) 2:14
Andante 3:36
Elegy Ostinato 4:07
Dream Baby (Elizabeth Fraser) 4:30
Total Time: (49:37)
Composed by:
Elliot Goldenthal

Orchestrated by:
Robert Elhai,
Elliot Goldenthal

Conducted by:
Jonathan Sheffer,
Ed Shearmur

Performed by:
The London Metropolitan Orchestra

I've finally decided that I like Elliot Goldenthal better than Don Davis. Not only is his music more original, it is much more menacing when it wants to be and much more emotional when it wants to be. In Dreams is effective, chilling, and scary as hell, and while I haven't seen the movie, I know enough about Goldenthal's working record with director Neil Jordan that it was probably perfect for the movie. I doubt, however, that anyone who doesn't like the composer yet would not have a tough time listening to this.

On the general listenability scale, In Dreams falls somewhere between Alien3 and Sphere. Definitely not something that fans of traditional music are going to appreciate very much, but if modernism (or post-modernism, whatever) is your thing, you'll enjoy this, even if it doesn't have the same personality of Elliot's other scores.

What I find so great about Goldenthal's music is its pure originality in film context, this work futher pushes the boundaries of what is acceptable in orchestral film music, assissted by loud, screeching saxophones and grinding electric guitars. This time they are real guitars, unlike the samples heard in Alien3. Traditional film music purists may scoff if they want to, but anyone willing to accept new ideas will be rewarded with a fresh perspective on horror scoring.

Not having seen the film, I am unsure of how the well the songs included on this CD work, but I would have appreciated them more had they been placed at the end of the album and not in the center. The song's placement disrupts the flow of the score and may be extremely irritating to listeners, as it was to me. The song that *is* at the end of the album, "Dream Baby," was written by Goldenthal himself, and though it introduces something new to the composer, it is still fairly banal and boring like most film songs of its variety.

Though I enjoy it, this is probably my least favorite Goldenthal score (let's face it, the man has a great track record). For those who enjoy dissonant horror scoring, I marginally recommend this. To those who don't like dissonant scoring such as Sphere, I probably don't need to tell you that you will be highly dissapointed. In Dreams is a solid score, but only if you can appreciate its style.
---
In Dreams is copyright 1998 Varese/Sarabande records. This review is written by and is the property of Isaac Engelhorn and does not reflect the opinions of Tripod.