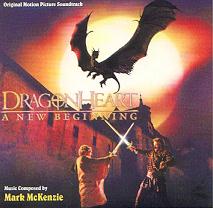 ---
Track List:
---
Dragonheart: A New Beginning Main Titles* 4:49
I'm Flying?! 2:16
Knighthood and the Old Code 1:57
Friar Peter Went to Heaven* 1:28
Lian's Awesome Fight 1:34
My Heart Goes With You (Instrumental) 2:16
Dungeon, Skeletons, & a Dragon 3:42
Serenade to the Stars 1:02
Dragon Heaven* 1:16
Roland Bullies Geoff 1:24
Renaissance Banquet 1:25
Chinese Battle the Knights 2:12
Withered Heart Tale :52
Tai Chee :46
Terragoth Ambush! 2:10
Prophetic Transformation 1:20
Dragon Fight! 1:24
My Wise Master and Closest Friend 1:28
Of My Heart to Thee I Give* 1:41
My Heart Goes With You 3:19 (Performed by Rona Figueroa)
Total Time: (39:24)
*Contains Dragonheart theme by Randy Edelman
Composed by:
Mark McKenzie

Conducted by:
Peter Breiner

Orchestrated by:
Mark McKenzie,
Pat Russ,
Warren Sherk

Performed by:
The Slovak Philharmonic

I have to admit that it's very difficult for me to not be biased towards fantasy/adventure scores. It's definitely my favorite genre and I like nearly every score in it that I hear, so those who are not really fans of the genre can subtract one or two points from my rating. That said, Mark McKenzie's sequel score to Randy Edelman's disgustingly wonderful original is definitely a good one. Not quite as jam-packed with incredible themes, but it does add a couple great new ones, plus fans of the original will be glad to hear the use of Edelman's main theme from the original in different cues throughout the album. While listening to this, I don't seem to feel that McKenzie is quite as into the excitement of the film like Edelman was before, but what he gives with possible lack of enthusiasm, he more than makes up for in stronger orchestrations with little or no synth as opposed to the previous constant use.

Other than the theme, McKenzie uses many styles and approaches to scoring that were used in the prequel including the ascending string triplet ostinatos, which add much to the overall flavor and make it sound very similar. In fact, I was almost startled to hear just how like Edelman this composer sounded. The liner notes (something that too many score are lacking nowadays) reveal that Mark is a friend of Edelman and had contact with him during the time of composition.

The new main theme is appropriately majestic for the movie and acts as an excellent supplement to it's predecessor, as it's own supplemental theme, the "heart" theme works as well. This "heart" theme is unfortunately used as the melody for the all-too-typical love ballad that closes the album. At this point I don't really care if the performance or melody is good, but these ballads will almost always mean one half of a point from my rating from now on. I'm sick of 'em!

The music is performed by the Slovac Philharmonic which do a decent job with no noticeably horrid screw-ups or blunders, but overall do nothing really spectacular. The song at the end is performed by Rona Figueroa, who performs in the movie with lyrics by the film's writer, Sherry Goodartz. Like the score's performance, Figueroa doesn't really screw up but does nothing particularly makes me want to recommend the song over the ten thousand others like it.

If you want to hear the music of a very talented up-and-comer like Mark McKenzie, are a fan of the original, or are a fan of fantasy/adventure in general, I could not recommend this highly enough. Others should find plenty to like too, unless you wish to avoid fantasy-themed scores like the plague, in which case I pity you, but accept your feelings.
---
Dragonheart - A New Beginning is Copyright 2000 Varese Sarabande. This review is written by and is the property of Isaac Engelhorn and does not reflect the opinions of Tripod.