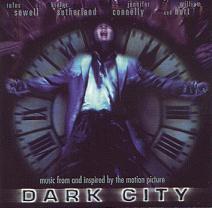 ---
Track List:
---
(Songs)

Sway (Anita Kelsey)
The Information (Course of Empire)
Just a Touch Away (Echo and the Bunnymen)
Dark (Gary Numan)
Sleep Now (Hughes Hall)
The Night Has A Thousand Eyes (Anita Kelsey)

(score)

Into the City
No More Mr. Quick
Emma
The Strangers Are Tuning
Memories of Shell Beach
The Wall
Living an Illusion
You Have the Power
Song time: (23:16)
Score time: (36:55)
Total Time: (60:11)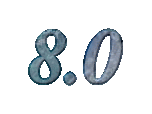 Composed by:
Trevor Jones

Orchestrated by:
Trevor Jones,
Geoff Alexander,
Julian Kershaw,
Ed Butt,
Simon Chaimberlain

Conducted by:
Geoff Alexander

Dark City is one of my favorite movies of all time, and despite the fact that it was a flop, I suggest that you see it right away if you're even remotely interested in sci-fi. The score? Well, it's not one of my all time favorites but I like it, I like it a lot. I don't own a lot of Trevor Jones material, but I'm trying to remedy that problem.

Many dismiss this score as dark noise because of how menacing it is, and I will admit that it is very gloomy in nature, but that can't really be helped, as it complements the film incredibly well. The music is very pronounced in the film itself and is hard to miss, especially the "tuning" sequence in "The Strangers are Tuning," as the aliens that have kidnapped humans to use as guinea pigs change the city as the people sleep. It is a perfect example of how a loudly played score can enhance a movie.

The score revolves around three themes, two of which, the main theme and the Shell Beach theme, are excellent and very memorable. The love theme is a little harder to pick up on, but is also pretty good if you give it a chance, even though it is gloomier than the Shell beach theme. All are used in moderation except for the main theme, which gets a lot of disc time, though not as much as some other main themes from different movies. It shows up at all points of the score except for the slower tracks, and makes a very good contemplative theme that doubles very well as an action element in the movie, especially during the final cataclysmic battle with the leader of the Strangers, Mr. Book.

There are few things that I have to complain about with the composition of the score itself but the CD release leaves a lot to be desired. The only songs on the disc that were in the movie were the two Anita Kelsey songs that Jennifer Connelly did lip-sync to. The others are pretty much irrelevant and dull except for "Sleep Now" which is a techno song that I like okay.

Dark City is a well-done and intelligent score, and I appreciate it's use in the film and like it fairly well on CD. The disc really isn't a very good deal, but I liked the movie so much that I had to get it. Still, it's not a horrid deal either, there is almost forty minutes of score so you can't complain too loudly. Just accept it for what it is and enjoy!
---
Dark City is Copyright 1998 TVT Soundtrax. This review is written by and is the property of Isaac Engelhorn and does not reflect the opinions of Tripod.