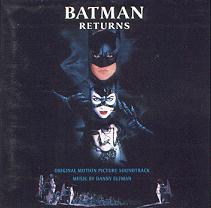 ---
Track List:
---
The Birth of a Penguin 2:27
Opening Titles 3:09
To the Present :47
The Lair 4:49
Selina Kyle 1:11
Selina Transforms 4:16
The Cemetary 2:54
Cat Suite 5:41
Batman Vs. The Circus 2:34
The Rise... 1:41
And Fall from Grace 4:08
Sore Spots 2:15
Rooftops 4:19
Wild Ride 3:34
The Children's Hour 1:47
The Final Confrontation 5:12
Penguin's Army 4:54
Selina's Electrocution 2:40
The Finale 2:19
End Credits 4:44
Face to Face (Song) 4:17
Total Time: (70:00)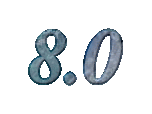 Composed by:
Danny Elfman

Orchestrated by:
Steve Bartek
Mark McKenzie

Conducted by:
Jonathan Sheffer

The sequel score to Danny Elfman's legendary original is good. As an individual work, its complexity and knack for mature reflection of the actions and feelings of the characters on screen is superior to the original. However, as an interesting listening experience, it doesn't touch its predecessor. To reduce it down to a simple equation: Batman Returns is an enjoyable score but not nearly as much fun as Batman.

This score functions mostly as a character study with excessive use of leitmotif. Well, maybe not excessive, but it is more influential here than in the prior Bat Vs. Joker epic. The villain Penguin's theme is okay, but I really love the effect of whining violins to represent catwoman. Batman's theme from the first film makes a comeback but is unfortunately underused, leaving a slightly bad taste afterwards, yet this does make it seem much more significant when it receives play.

Some tracks seem to leave the dark atmosphere from the original score behind in favor of a lighter, sillier tone complete with typical Elfman "la-las" which actually do not appeal to me, and I doubt it would appeal to many fans, especially considering the magnificence of the scoring during similar scenes from the original. Still, the movie itself had many zanier (and sometimes downright stupid) facets. Take the army of penguins armed with candy-striped missiles for example - Elfman mirrors these additions to the visuals as best as he possibly can, without going too overboard.

The song at the end of the disc, performed by Siouxsie and The Banshees, "Face to Face" closes the album better than you might believe, and never goes out of its way to attract attention to itself, though it may still be considered a nuisance by film score purists. Fortunately in this case, it is after the score has been fully played with no tracks remaining. Personally I like the song, though those who don't or won't shouldn't find it to be too intrusive.

I've read some complaints about sound quality regarding this soundtrack, but it sounds fine to me. The performance isn't nearly on par with the Sinfonia of London, but it is quite acceptable with no noticeably bad moments at all. In some moments it actually shines, but in its weaker moments it is generally accompanied by a loud pipe organ that adds quite a bit to the soundscape.

Batman Returns simply does not match up to its precursor or its Goldenthal successors, but it does have many enjoyable moments that would be hard not to recommend to film music listeners. Fans of the series or Elfman should pick this up right away. I know that there are a lot of fans of the series that don't own the soundtracks yet. I have a friend that absolutely worships Batman movies who still doesn't own any of the soundtracks. Regardless, pick this score up and help Batman kick some penguin ass!
---
Batman Returns is Copyright 1992 Warner Bros. Records. This review is written by and is the property of Isaac Engelhorn and does not reflect the opinions of Tripod.